MORE of MY PICTURES
Please wait for the pictures to load...worth the wait! thanks...
SHANE DANIEL ROBERTS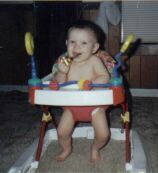 My first Grandson
FOR LITTLE BOYS AND ALL THEIR ADVENTURES IN DISCOVERING THE WORLD
SHANE AT 11 MONTHS

Where is everybody?

I want to play,Mommy!

Want to play with me?

There you are!

Got the key Grannie??
WHOOPPIE!!

Shane and PawPaw Jim

Playing with PawPaw

Want some ice cream?

I don't want to go to sleep, PawPaw

Bet I can get away!

4 Months

4 Months































"Please come back soon!"
NOTE: Living family members will not be included in these files without consent. All data here has not been personally verified by me so use at your own risk. If you have conflicting or additional information Please contact me at:



EMAIL

Copyright © 2000-2011 by Lynda Hasley Nordan. All rights reserved. This information may be copied and used for personal use only. Commercial use of this information is strictly prohibited without previous permission of Lynda Hasley Nordan