Some of My Favorite Photos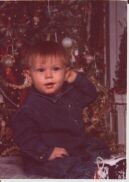 Shane Daniel Roberts
Please wait for the pictures to load...worth the wait! thanks...
Michelle and Shane
Christmas 1999

Shawn and Shane
Christmas 1999

Want to play with me?
11 months

Shane
11 Months

Do you want a cookie?

Are you Sure???

Adam Brister
Age 5

Taking a nap!
Adam and Shane

How about a ride??
10 Months

LOTS of FUN!
10 Months

Joey Owens
Age 3

Alicia James
Age 3
---
HOME PAGE

Copyright © 2000-2011 by Lynda Hasley Nordan. All rights reserved.
This information may be copied and used for personal use only.
Commercial use of this information is strictly prohibited
without previous permission of
Lynda Hasley Nordan.